超高速背心袋製袋機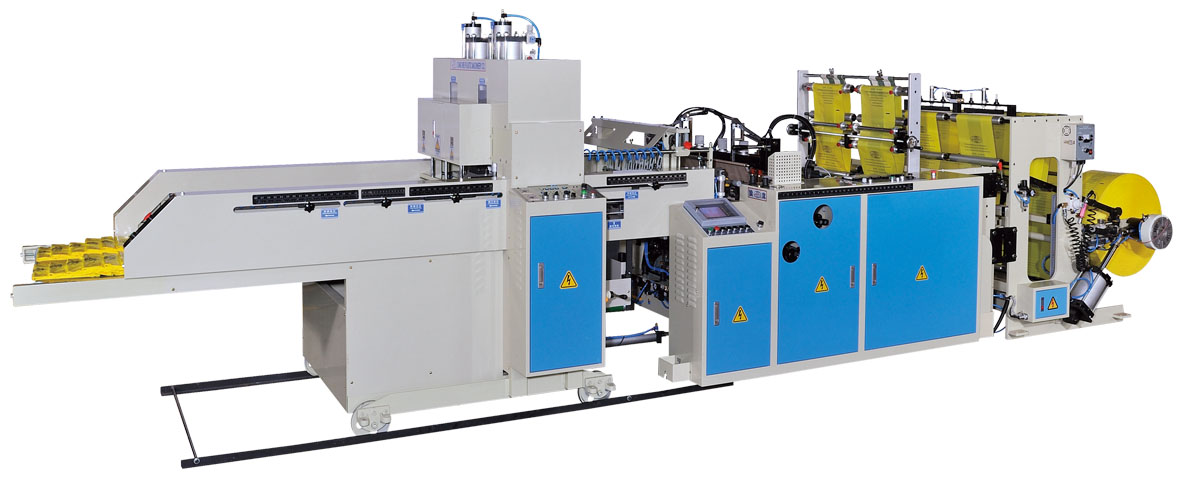 特色
Human touch screen, simple operation.
Servo motor feeding control, high-speed production.
Inverter-Motor tension control un-winder, regarding to production speed, brake to change feeding speed. Max, dia of plastic film is 800mm.
Unwind Stand with pneumatic loading device.
Air Shaft.
Auto-punching bags folding device.
The machine adopted pluging type IC circuit auto-controlled system for easy replacement.
Punch-out scraps are collected by conveyor for easy disposal.
Air blowing out feed system incorporating with bottom smoothing device. Ensure neat bags are stackedd fot accurate bags gripping and punching.
Automatic punching machine use air pressure to push oil hydraulics. Easy to operate, without noise fault of hydraulics.
產品規格
Model
CW-500P-SV
CW-800P-SV
CW-1000P-SV
BAG WIDTH (EACH LINE)
450 mm x 1
330 mm x 2
430 mm x 2
BAG LENGTH (MAX.)
300 ~ 700 mm
300 ~ 700 mm
300 ~ 700 mm
PRODUCTION SPEED
120 Meter/min
200 ~ 250 Cycle/min
120 Meter/min
200 ~ 250 Cycle/min
120 Meter/min
200 ~ 250 Cycle/min
CONVERTING THICKNESS
0.010 ~ 0.035 mm
0.010 ~ 0.035 mm
0.010 ~ 0.035 mm
MOTOR (HP)
2 HP
2 HP
2 HP
HEATER
5 kw
7 kw
8 kw
POWER REQUIRED
7 kw
10 kw
12kw
AIR VOLUME & PRESSURE
5kg/cm2;2500 Ni/min
7kg/cm2;2700 Ni/min
8kg/cm2;2800 Ni/min
MAX. REEL DIAMETER
800 mm
800 mm
800 mm
DIMENSION L x W x H (CM)
650 x 115 x 160
650 x 180 x 160
650 x 200 x 160
MACHINE WEIGHT
1800 kgs
2500 kgs
2600 kgs
PACKING L x W x H (CM)
230 x 120 x 160
400 x 150 x 176
230 x 180 x 160
400 x 180 x 176
230 x 200 x 160
400 x 200 x 176
GROSS WEIGHT
2300 kgs
2900 kgs
3100 kgs
REMARK
1 Photo Cell
2 Photo Cells
2 Photo Cells