BNW-A Series - Woven Bag type 8 COLORS FLEXOGRAPHIC PRINTING MACHINE (OFF-LINE)
BNW-A Series - Woven Bag type 8 COLORS FLEXOGRAPHIC PRINTING MACHINE (OFF-LINE)
JH/FF-8060BNW-A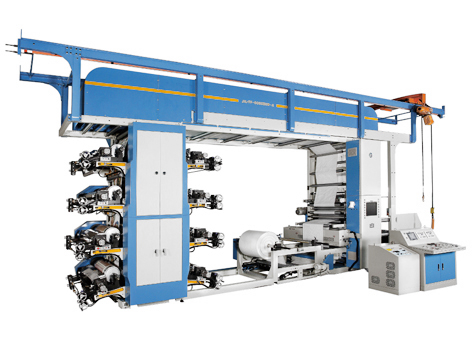 FEATURES
FC-25 cast iron machine frame, vibration-free, at high speed operation.
Driven by timing belt, quiet and precise.
To use differential gear device (made in Japan) to adjust the registration with forward and backward adjustment by the electronic type push-button device.
Main motor by using AC motor (SIEMENS brand) with inverter control (YASKAWA brand) and line speed controlled by harmony synchronous driving system.
Automatic tension control (MITSUBISHI brand) + magnetic brake on unwind and rewind.
Non-stop semi-auto web-changing device.
Electric control by using PLC (MITSUBISHI brand) with full color touch-screen type human machine interface (HMI).
SPECIFICATION
8 COLORS OFF-LINE SERIES
| | | | | | |
| --- | --- | --- | --- | --- | --- |
| Model | Printing Width | Film Width | Repeat Length | Printing Speed | M/C Dimension L x W x H |
| JH/FF-8060BNW-A | 600 mm | 620 mm | 13" - 48" | 20~120 M / min | 11860 x 2475 x 5150 mm |
| JH/FF-8080BNW-A | 800 mm | 820 mm | 13" - 48" | 20~120 M / min | 11860 x 2675 x 5150 mm |
| JH/FF-80100BNW-A | 1000 mm | 1020 mm | 13" - 48" | 20~120 M / min | 11860 x 2875 x 5150 mm |
| JH/FF-80125BNW-A | 1250 mm | 1270 mm | 13" - 48" | 20~120 M / min | 11860 x 3125 x 5150 mm |
| JH/FF-80150BNW-A | 1500 mm | 1520 mm | 13" - 48" | 20~120 M / min | 11860 x 3375 x 5150 mm |